Not only does Joe Tom display jaw-dropping expertise when it comes to repairing and rebuilding pianos, he's also an accomplished musician and performer who understands – and has a passion for – music.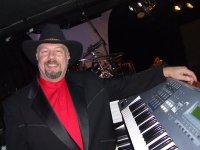 A graduate of Wayland Baptist University with a BA in piano performance, Joe Tom McDonald has been involved in praise and worship ministries in various churches since high school. From 2002 – 2005, Joe Tom was involved with a musical mission team to Latvia, helping Latvian Christian musicians record their music in order to share the message of Christ in the Latvian language.
Joe Tom makes his living tuning and restoring pianos, and is a Registered Piano Technician with the Piano Technicians Guild. He is recently widowed from his wife of 36 years and tries his best to spoil his two grandchildren.